The library will be closed on Sunday, June 19th in observance of the Juneteenth holiday, and on Monday, June 20th in observance of the federal holiday. We will reopen on Tuesday, June 21st at our regular time of 8 am. 
Due to the power outage, the library closed early on Thursday, June 2nd. We will reopen tomorrow, Friday, June 3rd, at our usual time of 8 am. 
Meals can tell us how power is exchanged between and among different peoples, races, genders, and classes. Fire and Freedom: Food and Enslavement in Early America looks at the Chesapeake region, during the early colonial era, where European settlers relied upon indentured servants, Native Americans, and African slave labor for life-saving knowledge of farming and food acquisition, and to gain economic prosperity. It is through the labor of slaves, like those at George Washington's Mount Vernon, that we can learn about the ways that meals transcend taste and sustenance.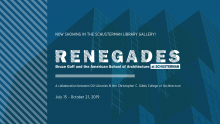 Under the leadership of Bruce Goff (1904-82), Herb Greene (b. 1929), Mendel Glickman (1895-1967), and many others, OU faculty developed a curriculum that emphasized individual creativity, organic forms, and experimentation. This radical approach to design drew students to Oklahoma from as far away as Japan and South America and later spread the American School influence to their practices in California, Hawaii, Japan, and beyond.